Existing cold conservatory roof converted to warm fully insulated sunroom roof from £2500.00
Is your conservatory too hot in the summer and too cold in the winter? Transform the space into an all-year-round living area.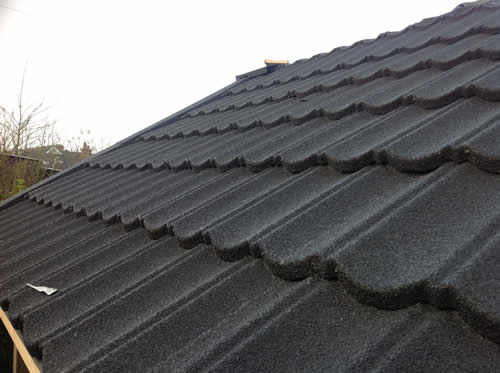 Our Conservatory Conversion System uses the Decra Light Weight Tile System to deliver significant results, keeping conservatories much cooler in summer and much warmer in winter. Your conservatory will also look like a new sunroom, with an attractive tiling finish. The roof is both functional and strong, and will enhance the building, while also protecting it from weather and intrusion. The Decra system uses a lightweight, steel roofing tile designed to deliver exceptional strength and weather resistance, and is available in a range of highly attractive finishes.
Decra tiles feature a steel core, which increases strength while reducing weight. As a result, each tile weighs as little as one-seventh of a traditional clay or concrete alternative, making them easier to transport, handle and install. Decra tiles are storm proof - tests have proven their resistance to winds up to 160km/h and rain falling at 200mm per hour. Decra tiles offer weather protection from rainfall, hail, snow, ice, sun - even hurricanes - without damage, and are already installed in some of the world's harshest environments.
All existing conservatory roofs can have the Decra lightweight system, so if you have a conservatory that has any of the roof styles set out on our Sunroom page or a combination of any of these styles, one of our surveyors can call with you and discuss the best insulation and ceiling method to suit your individual needs.
All our Sunrooms and Conservatory Conversions come with a plastered ceiling. You can have either a centre pendant light or brushed chrome down-lights. You can have the ceiling the same shape as the roof or a flat ceiling with ceiling joists. The latter is by far the best choice for insulation, as 400 mm of mineral wool can be installed. This meets with current Building Regulations.
To clarify, there are three different ways for us to supply a conservatory roof conversion, depending on whether you want a flat ceiling or a vaulted ceiling. First, the vaulted ceiling uses your existing roof structure, clads it on those outside with our Decra lightweight tile, and follows the roof pitch with 100mm of foil-backed insulation and plastered ceiling. With this method, the roof is only minimally strengthened, and the insulating qualities are about half of the flat ceiling version. Second is the flat ceiling, which uses your existing roof profile, but ties the roof together with a flat ceiling. 400mm of ISOVER G3 glass mineral wool is installed, again with a plastered ceiling. This will give better insulating qualities, and will be considerably stronger (because you have formed a triangle we the ceiling). The only downside to this method is that the ceiling height is determined by where your existing ring beam meets your existing T section rafter. Normally this falls within 2.1 and 2.3 metres, and it can be easily measured by yourself or by one of our experienced surveyors on site. The third method is to completely remove the existing roof, and form a new roof similar to the existing shape, but with the ceiling height raised to the height of your existing house, which is normally around 2.4 metres. This is by far the best method for strength, insulating qualities, and achieving the same ceiling height as in the rest of your dwelling. The only difference between this and the second method is the ceiling height, therefore, if you were getting 2.3 metres' ceiling height with the second option, you may feel that it would be worth spending extra money on the third option to achieve 100mm. In most cases, the existing lead flashings have to be replaced, the gutters and down pipes are always replaced, as are the fascia boards. The time frame to convert is normally one week. We can supply and fit wood-burning stoves (priced separately) with every roof purchased, if desired. Contact one of our surveyors to discuss the available options.
FA
Q
Q.   Will I lose much light?
A.   No. The standard polycarbonate roof is opaque and limits light intrusion,with the majority of light being delivered into the conservatory through the windows and doors. The new painted white ceiling also brightens up the space and reflects the light that comes through the windows & doors. It is considered that the installation of this system on average only results in a modest loss of light. Roof windows can also be added to give more light.
Q.   Will the roof require cross ventilation?
A.  Yes. An air gap is retained which is hidden within the depths of the system, and also above the fascia, ensuring that there is enough air circulation to prevent condensation. We install insulation so that any heat generated is controlled by this before it hits the roof structure.
Q.   What effect will the additional weight have on the roof?
A.   The Decra roof system is designed to withstand wind loads and snow loads and human traffic, with huge tolerances.
Q.    Is the roof noisy?
A.    A lot of householders who have either a glass or poly roof will complain about the noise level from the outside elements. however the Decra system, complete with insulation, converts a cold conservatory roof to new build standard sun room roof.
Q.    Will it match my existing house tile or slate?
A.    It will match in as closely as possible. We supply a brochure and samples to help our customers make the right choice. We also have a show roof in Belfast which is available for viewing.  The lightweight roof tile is very sympathetic to all existing house finishes and with its slimline ridges and end caps you will be amazed at the difference it makes.
Q.   What is the guarantee on the Replacement Roof System?
A.    There is a 40 year manufacturer's guarantee.
Q.   Will I lose much head height?
A.   No because the system follows the existing profile of the conservatory roof.